Hello everyone. Time for another Colour Create Challenge. Did you miss us last week? I must admit that I think the two weeks has just flown past.
Thank you for all your incredibly beautiful entries to the last challenge, we had a great time visiting all your blogs. We promise to make it easier for you all this week but we're so pleased that you weren't all put off by the number of colours we gave you last time. You did some fantastic inside decoration to your cards and your envelopes were gorgeous. Well done to all of you!
I'd like to introduce you to the newest member of our team;
Janiel
from Scrappyjan designs. What an amazingly talented crafter she is. If you go to her blog you'll be wowed by pages of not only gorgeous cards but some stunning non-card makes too. There are candles and boxes and barbecue baskets and her wedding bits are incredibly beautiful. Welcome aboard Janiel, we're so pleased to have you on the team.
UPDATE:
We have another team member who joined us last night and she's already made a DT card for this challenge too. So, a big welcome goes to
Karen
from 6 Wacky Women. Karen has wonderful colouring skills and her blog is full of the most beautifully coloured images. She is also incredibly talented at parchment work too and those creations are stunning. Welcome aboard to you too Karen.
This week sees another change to the challenge. Yes, we're going to have sponsorship from now on - so that means prizes are to be won.
This challenge is sponsored by a store that will become a regular sponsor of Colour Create,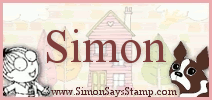 "With over 100,000 items in stock, Simon is proud to offer the best selection of Rubber Stamps, Scrapbooking, Artist Trading Cards, Altered Art, and Paper Crafting Supplies in the world!"
Heidi has given us a

Yes, that's $25 store credit for one lucky winner to spend on Simon Says Stamp! goodies - with free p&p too!!!

Okay folks, time to set this week's challenge: Here's your Blue and White picture for a little bit of inspiration.
The optional extra this week is VINTAGE. So, if you've fancied trying to make something in a vintage style come and feast your eyes on the wide range of beautiful vintage creations made by the fabulous design team, starting with our newest team members.