Hello everyone. We're back again with a brand new challenge for you.
We were bowled over by the number of you that joined in our last challenge; Karen's blue white and silver was a winning colour combination with you all. We hope that you'll enjoy using the colour combo we've chosen for you today just as much as you did the last one. Thank you all for joining us and giving us such inspiration with your beautiful projects.
This week we have 5 winners of the Handy Hippo vouchers, and they are:

On to the challenge then. The incredibly talented Mina has picked the inspirational picture and colour combo this week. We're sure you'll all love this one, especially if you like making traditional Christmas cards. Be prepared for a sugar rush!
Here is your inspirational picture:
Oooooh! YUMMY!
The colours this week are GREEN, RED and WHITE.
Now with a picture like that what else could we choose for the optional extra ........ it has to be Christmas! Well folks, we've made it easy for you all to do the optional extra if you want to!

Today our regular monthly sponsor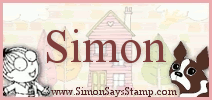 have given us another $25 credit voucher for the prize.

Please take time to stop by their store to see all the gorgeous new crafty items they have in stock - it's a great way to start your Christmas list for Santa off!!
Here is some inspiration from the fantastic Design Team:

DEANNE

DENA

SHARON

CHRIS

JO

DI

JANIEL

HEATHER

KAREN

Thanks for taking the time to visit our challenge. We look forward to visiting you all again to see your entries using this colour combination.

Have a great two weeks and we'll be back with the next challenge on 3rd December
xxx
Please enter your actual card post into the URL box in Mr Linky, many thanks!
xx
GOOD LUCK !